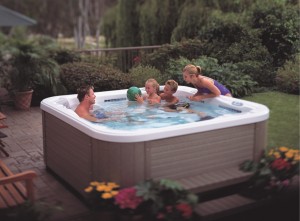 Aquatic Fitness Systems (AFS)
Low impact exercises tone and shape while the body is floating in buoyant security. Sophisticated aquatic engineering relaxes and soothes.
The AFS brings together the benefits of an exercise room with rejuvenating home hydrotherapy. A workout for the body. A retreat for the soul.
Bay Collection
The Bay Collection symbolizes the ultimate in luxury, style, and performance. Its exclusive interplay of water, light, and sound, gently soothes the body while it calms the mind. One look and you'll know, this is like no other spa in the world.
Reflections
Advanced engineering. A legacy of quality. The science of Hydronomics?. D1 Reflections® showcase the heritage of thoughts and design that made D1 Spas a leader in the spa industry.
@Home Hot Tubs
Step up, Step in, Start living. D1 Spas discovered the right way to bring together affordable enjoyment, luxury, and performance. Whether it's for healing, relaxing, family fun or creating uncompromising intimacy and romance, the @Home Hot Tubs does it all.